We have been working with Diretta since 2021. The developement for the first Diretta is quite challenging as it involves a lot of softwares and hardware to match with the audiophile standards. We are very delighed to release a very first Diretta Network Bridge which includes all our expertise and special requirement from different audiophiles, while we want to build them in affortable price. So that more audiophiles can get to try the advantage of using Diretta as network bridge.  This is just amazing good and improvement is huge when we tweak the parameter on Diretta setting. 
QUICK SETUP GUIDE:
*** Before power up, please make sure to connect all the cables first before power up. ***
***Please connect all the Lan, BNC clock cable from external master clock and USB cable to DAC. Before power up the device***
 Powering Procedures:
Before power up, please make sure to connect all the cable first, it included the Lan, BNC clock cable from external master clock and USB cable to DAC.
Then plug the cable to the DC port with 5V DC power supply. Power up the 5V DC external power supply. This step will power up the Lan Isolator and Clock Sync Module inside the Diretta NB.
Finally, switch the power on with the on/off switch# at the top right corner. This will power up the Diretta modules. The boot up will take around 10 second and you are ready to go.
The small blue lan cable is provided for use with Fiber isolator, connect them to both lan port and connect the SFP Fiber cable will make a significant difference.
AfterDark. Constallation SFP Optical Isolation will comes with standard option for Diretta Collection  
What is the special about Project ClayX Rosanna Diretta Network Bridge?
On Hardware Levels:
The motherboard is heavily tweaked and removed all the parts which is not used for audiophile for EMI noise reduction
Build in optical isolator as standard, avoid EMI noise get transfer from noise network enviroment to the Network Bridge
10M Master Clock Input as optional adds on for audiophile to optimise sounding with their Master Reference 10M Clock
5V 2A input with 2.1mm DC socket, to enhance the listening pressure with high quality LPS
Build in 10M Master Clock as optional adds on, for audiophile who prefers all in one in one chassis 
USB DAC supports for all models which runs Windows / Linux with XMOS USB generic drivers
Two USB ports, which can connect ro two USB DAC at the sametime. Software selectable on Diretta Host Setting. 
Audio Note Silver Grounding pole for connecting AfterDark. BLACKICE Ground Box 
Duelund Pure Silver Foil Audio Capacitor will be installed at DC input section for Sound Tuning 
Duelund JDM Pure Silver Foil Audio Capacitor 
On Software Levels: 
The diretta license and FW is included inside the motherboard.  
Plug and Play to audiophiles.
AfterDark. Diretta Host Software will be provide under the software below, and only can only be used to activated with AfterDark. Diretta Target. 
Windows OS / Linux Version for Diretta Host 
After Installed Diretta Host, the USB DAC will be Roon Ready / HQPlayer Ready via Diretta 
Thousand of mix and combination setting of parameters for different sound tuning for audiophiles systems. 
AfterDarkASIOdriver_1_100_0.msi7.76 MB · 1 download
The motherboard is mounted at the top of the 2mm thick AfterDark. Carbon Fiber AudiophileMAT, to enhance signal to noise levels, background will be much darker and help to retrieve more micro details. 
10M Master Clock In Version

The Background of Diretta 
Why most electric noise is hard to filter at the network?
Most of the switch can reduce the power- supply noise generated by DC-DC conversions. Using some Audio Capacitor near the DC sources, can reduce some noises. 
Some circuit designer may apply some low-pass filters and reduct splike like digital-specific noises.

However, we it will harm the sound, it is because the filter may filter out some missing information, that is not actually a noise at all, for example, the white noise, which have some extra information to the background, which make music more organic.
This may make music digital and harsh as a result of too much filters.
It is absolutely difficult to electrically eliminate the noises. Diretta is going to solve this problems in 2 steps...
An intergrated Diretta Device with DDC + Diretta ASIO protocol network optimization 
Diretta ASIO optimised and reduce network noises?
Averaging the network processing, moderated the power consumption and current. 
Use of Target and Host Server concept to reduce network traffic 
The Host (Roon Music Server) sync the Target device, with more packets at short time intervals, to average out the peak traffic, the transmission is controlled by setting the Target buffer. i.e less electric use, with less noise during transfer
The preset profile amd ASIO Buffer can be use to fine tune the sounding.  
We perform testing on

 

Cascade of Buffalo BS-GS2016, the result is just amazing.
Huge improvement on music playback with HQPlayer x Roon x Diretta ASIO
Buffalo BS-GS2016 SFP+ 10G Cascade x Giesemann OCXO Black Modernize Edition
Testing Enviroment : Fidelizer Pro 8.8 x HQplayer x AfterDark. Diretta ASIO x Roon x MinorityClean 235 running on Windows Server 2022 Datacenter OS
AfterDark. Partners with Fidelizer Pro for optimization for Diretta ASIO x ROON x HQPlayer 
We will have group buy for Audiophilestyle.com member for purchase of latest Fiderlizer Pro 8.8 next week…
Farad Super3 Super Capacitor LPS will be official power supply upgrade for AfterDark. Rosanna Network Bridge x Diretta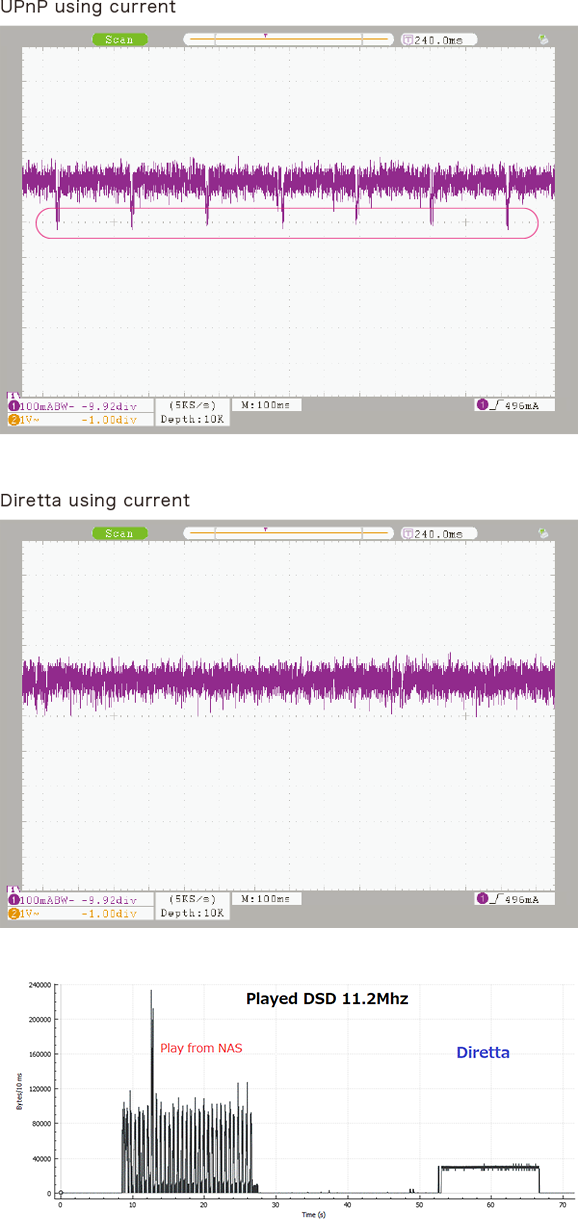 The result for DSD 11.2Mhz / 22.5Mhz is just amazing, all the infomation is transforming smoothly to DAC
HQPlayer upsampling to poly-sinc-ext, AMSDM7 512+fs, DSD512 via AfterDark. Diretta ASIO to Gustard X26 Pro, decoding DSD512 DoP at DSD 22.5Mhz.  
E.g. The filtering setting for HQplayer, choosing output ASIO device = AfterDark. Diretta. Then Roon is ready to go, and upsimpling via HQplayer. 
Specification:
Black Modernize Carbon Fiber Anti-Resonance Plate is made of 6mm front / 3mm back thickness

 

of Carbon Fiber Audiophile MAT for EMI shielding and Anti-Resonance for mission critical application for Audiophile Network Switch.

 

The will prevent external noise from getting to the USB signal conductors, and the high performance density of Carbon Fiber Shield to further prevent the ingress of noise (RFI, etc.) and increase stabilization during NAS Music File streaming application.
Black Modernize Connection Interface

 

Upgrade provide maximum flexibility and enhance Noise Isolated performance with propriety

 

"LAN input for Audio"

 

and

 

"Optical Lan Isolator"

 

for audiophile audio connection.
Black Constellation (CFS) Optical Fiber Audio Lan Isolator Performance Modules, this Lan Isolator interface is can be upgraded with 10G SFP Finisar Server Grade Optical Module and Commercial Grade Commscope Single Mode Optical Fiber Cable to provide the best data transfer with much "less error rate" to provide the best audio performance for Lan Isolation application. The separate Linear Power Supply / UPS Battery was used to provide the best audio performance with less signal to noise background. The micro details and soundstage on Hi-Res Audio will improves significantly.
Audio Grade Duelund Silver Foil Capacitor is used for Sound Tuning
Lan port applied with EMI shielding material from KAMET,

 

enhanced audio performance with propriety Carbon Fiber Shielding (CFS) Technology and audio application.
High Quality External LPS is suggested to use to enhanced music presentation and maximized power conductivity.
Project ClayX Black Element Duelund Cable

 

will be used for internal DC power wire.
Independent Black Modernize 5V Linear Power Supply is placed away from the digital signal board to eliminate the EMI interference and provide more precision and organic sounding. 
Extra anti-absorber material was placed on the connection board,

 

to eliminate the signal noise and better separation to avoid vibration interference for mission critical music playback.
The "Carbonized Screw" was used to fix the position on

 

Black Modernize Carbon Fiber Anti-Resonance Plate

 

for Audiophile NAS.
All hand

 

Made in Hong Kong

 

by AfterDark. x Diretta in Japan