$59,800.00
Cybershaft OCXO 10MHz Quad Multi-Output Edition  
10MHz Master clock OP18A / OP19A Will released on 23 August 2020
This is a master clock for high-end audio that is made by combining the technology and know-how of cybershaft. 
Equipped with 4 outputs, it can be used for systems that require multiple 10MHz inputs such as single DAC system and HUB.
A new OCXO Type 3 is installed by selecting a stable unit through long-term calibration.
The next generation linear regulator LT3045 is equipped with an ultra-low noise and ultra-high PSRR secondary power circuit.
It covers up to the amazing low phase noise -121dBc / Hz (@offset 1Hz OP21A) grade.  
Characteristic
This product adopts a new OCXO Type 3, and selects and installs units with outstanding stability by long-term calibration.

In addition to the OCXO unit, a robust case made up of 3M wide-band magnetic shielding sheets and heat-shielding boards has been added to maintain an environment where OCXO performance can be maximized.

Equipped with 4 outputs that are convenient when multiple clock signals are required in a device configuration such as a single DAC or HUB.

 

50 ohm or 75 ohm impedance can be set for each system.

 

(Utility model registered)
The output GND potential can be connected to the GND of the main unit or isolated (isolated) for each channel.

 

(Utility model application completed) It is possible to meticulously deal with the complicated GND processing of audio systems. 
Since the clock output level can be switched between 1.6Vp-p and 3.0Vp-p with a switch, it can be used by connecting to almost all audio devices.

 

(4 systems common switching type) 

Equipped with an LED monitor that can control the OCXO unit temperature by operating the oven circuit normally.

The power supply uses a custom-made large R-core transformer with minimal leakage flux, and a precision conductor

 

"102 SSC"

 

is used for the lead wires

 

.

 

Equipped with a linear power supply with a proven track record using SiC Schottky barrier diodes, large-capacity low ESR capacitors, and OSCON.
In addition, the next generation linear regulator, ultra-low noise, ultra-high PSRR LT3045, is installed as a secondary power source.

 

In order to operate LT3045 under the best conditions, it has a three-unit structure.

 

The primary power supply supplied from the conventional power supply circuit is a two-stage circuit that thoroughly eliminates noise with the secondary power supply. 
Possible to use an external DC power supply for future expansion.

 

The external DC power is supplied to OCXO via the LT3045 secondary regulator circuit.

 

It can operate with only an external DC power supply.
The internal substrate uses a 70 μm thick copper foil substrate, which is twice the normal size.

 

The internal layout, which has been repeatedly verified, is in the best condition.
In addition to the aluminum material of 2mm thickness, the pure copper plate of 3mm thickness is fixed to the bottom of the chassis, and it has a solid damping structure of 5mm in total.

 

In addition, we adopt aluminum die-casting three-point support feet that can stabilize any installation surface.

 

4mm screw can be replaced with optional spike insulator.
Strictly measure characteristics using a highly calibrated measuring instrument.

 

Plot phase noise and Allan variance for each unit to ensure clock quality.

A two-year free repair warranty is included. 
Newly developed ultra-low noise and ultra-high PSRR linear power supply
Equipped with a three-unit circuit that maximizes the performance of the new-generation linear regulator LT3045A
dual-structure power circuit with an ultra-high PSRR LT3045 is added to the output of the conventional power circuit. It is designed to obtain the maximum PSRR by using three LT3045s in parallel to distribute the current.
In addition, when an external DC is used, DC via the LT3045 regulator is supplied to the circuit.
Output GND Insulation / case GND selection function
The GND potential of each output can be switched between "isolated from chassis GND" or "casing GND". If the output GND of this unit is grounded in common, when multiple devices are connected, the GND potential difference of each device flows through the GND of the connection cable, which may cause noise called a GND loop. For this reason, it is usually better to isolate each output GND from noise. Depending on the system you are using, the ground of each device may be firmly grounded. If there is no GND potential difference between these devices, better results for noise may be obtained if the output GND is grounded to the chassis GND.

Since the environment of the audio system varies, you can choose the best method according to your environment. The bottom plate of the machine is equipped with a chassis GND terminal.
About external DC power supply
This unit is designed so that an external DC power supply can be connected. If the internal power switch of the main unit is turned off and the DC selector switch is switched to the external DC, it operates completely with the external DC power supply.
External DC specifications are 14V-16V 1A. The recommended voltage is 14V. The LT3045 can eliminate noise well even with a 1V difference between input and output voltages. The smaller the input / output voltage difference within the specifications, the better the LT3045's capabilities will be. Therefore, the primary power supply built into the main unit is set to 13.2V. In the case of an external power supply, this is the reason why 14V is recommended considering the voltage drop of 0.35V of the Schottky diode. However, the 14V external power supply standard is rare, so a 15V power supply can operate properly. Please supply DC with as little ripple noise as possible so as not to induce noise inside.

The external DC plug standard is 2.1mm / 5.5mm. A normal DC plug can also be used, but since a screw-in jack is used, the [RS product 487-820] plug is recommended.
About OCXO Type3
We adopted OCXO with the most suitable specifications for audio quality delivered by our orders from the world's top manufacturers. In addition, after in-house calibration for several months after delivery of new units, only individuals with very stable characteristics are selected and installed. (The manufacturer name and model number are not disclosed.)
OCXO characteristics selection value
The OCXO installed in this product uses a stable individual after several months of calibration of a new OCXO unit. In order to select optimally as a clock for audio, we comprehensively evaluate the phase noise characteristics and short-term stability (Alan dispersion) that can be further examined.
・ Selection reference value
phase noise: OP20A -120dBc / Hz or less at 1Hz offset -140dBc / Hz or less at 10Hz offset OP21A -121dBc / Hz or less at 1Hz offset -140dBc / Hz or less at 10Hz offset

Short-term stability (reference value)
OP20A TAU = 1sec 2.5E-13 or less (0.00025ppb / s)
OP21A TAU = 1sec 2.0E-13 or less (0.00020ppb / s)
The main criteria for grade selection at our company is the value of short-term stability of Alain dispersion. For example, even if the phase noise value is 1Hz offset and -121dBc / Hz or less, if the value of short-term stability Tau = 1sec does not meet the standard, it will not become OP21. This is the same as the previous OP grade selection method.
The above value is not a general catalog value (Typical) but a guaranteed value measured individually, so the product quality is constant. There is no so-called "outage".

* For the value of phase noise offset 1Hz, an appropriate value between 1.000Hz and 1.099Hz is adopted to avoid averaging error. The measurement of phase noise is very sensitive and has measurement and measurement errors. The indicated phase noise value is not an absolute value but includes measurement error. The indicated phase noise value is a value measured under the same conditions of our company and is an index of product grade classification.

The value of the short-term stability of Alain variance is not clearly defined by international standards, so there may be large errors between calibration laboratories. The above selected values ​​are the values ​​for our calibration equipment.
・ Each OP grade product must be accompanied by an "Option Grade Certificate" with a hologram.

A tamper-proof seal is affixed in the center. A hologram is printed on the right edge. In addition, a hologram sheet with the serial number written on the option grade certificate is affixed to the OCXO unit.
Please be sure to check before purchasing a second-use.
How to use
Simply connect the 10MHz clock output on the back of this unit to the external 10MHz clock input of your audio device with a BNC cable. After that, change the settings on the audio device to use the external clock input. (Some devices switch automatically.)
Compatible audio products
"ESOTERIC Grandioso K1, P1x, P1, D1x, D1, K-01Xs, K-01X, K-01, K-03Xs, K-03X, K-03, K-05Xs, K-05X, K-05, K -07Xs, K-07X, K-07, D-02X, D-02, D-05X, D-07X, P-02, P-02X, N-01, N-05, G-0, G-0s , G-0Rb, G-02, G-03X, G-25U, TASCAM CG1000 / dCS Vivaldi clock, Paganini clock, Scarlatti Clock / MUTEC iCLOCK, MC-3 +, MC-3 + USB / Antelope Audio Isochrone OCX HD, OCX-V, OCX, TRINITY / BRAINSTORM DCD-8 / Phaseteck HD-7A / Phasemation HD-7A192 / SFORZATO DSP-01, DSP-Vera, DSP-Dorado, DST-01, DSP-03, DSP-05 / TEAC UD -503, UD-505, NT-503, NT-505 / SPEC RMP-X1 / Sound Warrior SWD-CL10 / TechDAS D-7, D7i / RATOC RAL-DSDHA2 / M2TECH EVO DAC TWO PLUS, HIFACE EVO TWO / CH Precision C1, D1 / aurender W20 / soulnote D-2 / SOtM sMS-200ultra, tX-USBultra, SOtM sNH-10G (both require master clock input function) / GUSTARD U16 / iFi Audio Pro iDSD "and
other 10MHz clock input Master clock generator, CDP, DDC, DAC, Audio H UB etc.
* If you are unsure of the specifications of the device you are using, please contact us with the model name from the "Contact Us" form.
Specifications
Ultra low phase noise OCXO Type3 installed 10MHz oscillator

accessory AC power cable, instruction manual, test report and phase noise / Allan dispersion characteristic graph 

75 ohm terminal 3

BNC cable is available as an option The 

Output: 10 MHz x 4 systems Sine wave 

output level: LOW 1.6 Vp-p HIGH 3.0 Vp-p (4 systems common switching 50 ohms)

Output impedance: 50 ohms / 75 ohms Each system is a single switching 

output GND potential: body GND / insulation switchable in (each line individually switchable)

Dimensions: W230mm x (including protrusions) D250mm x H95mm 

Power: AC100V 50/60 Hz up to 30W normal 8W

(optional in AC110V ~ 127 V Or 220V ~ 240V can be changed)

External DC power supply: DC14V ~ 16V 1A

external DC plug standard:

2.1mm

 

/ 5.5mm  Screwable weight approx. 3.8Kg

2 years free repair guarantee 

* Design and specifications are subject to change without notice for improvement

 

The
Optional Accessories
Spike Insulator Order code: SPF-01, set of 3 ¥ 11,550 (including tax) The
mechanical diode structure blocks vibration from the ground plane.
It can be used by replacing the standard aluminum die cast insulator with a screw diameter of 4mm.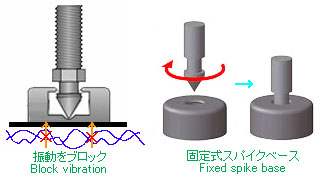 Since the spike and pedestal are integrated, there is no need to install and move the equipment.
At the time of shipment, a standard aluminum die-cast insulator is attached to the main unit, and this option is included to prevent damage to the tip. Easy to install.
Q & A
What is the difference between "OP20A" and "OP21A" products?
The phase noise characteristics of OCXO and the short-term stability characteristics of Allan dispersion are different. Everything else is the same.
What is the difference between Ultimate and Limited2 OP20 and "OP20A" grades?
The Ultimate / Limited2 OP20 OCXO unit selection conditions and the OP20A unit selection conditions are exactly the same. Similarly, the Ultimate / Limited2 OP21 OCXO unit selection conditions and the OP21A unit selection conditions are exactly the same. Another difference is that the OCXO Type3 offset characteristics after 1KHz are -5dBc / Hz better than OCXO Type2.
What is "OCXO Type3"?
Our company code that is attached to OCXO of different manufacturers and model numbers used in our products. OCXO Type 1 and 2 are second-hand goods that have been removed from the equipment used in industrial equipment. This OCXO Type3 is a new OCXO unit supplied by our order from the world's top manufacturers. (Manufacturer and model number are not disclosed.) OCXO Type3's offset characteristics after 1KHz are better by 5dBc / Hz than OCXO Type2.
How long will it stabilize after the power is turned on?
Since it is OCXO, it will stabilize in about 30 minutes after turning on the power. However, high-accuracy oscillators are the same for other oscillators, but the original characteristics gradually emerge over several tens of hours. Since the power consumption is very small, we recommend that you always use it without turning off the power.
Is regular inspection required after purchase? What is the appropriate period if necessary?
For audio applications, frequency values ​​that may change over time are hardly a problem, so I don't think that regular adjustments are necessary. As a service, the frequency accuracy can be adjusted up to 2 times within the warranty period. (Shipping costs will be borne by the customer) A fee will be charged for subsequent inspections, but Alan dispersion / phase noise measurement and frequency accuracy recalibration are also available at 5,400 yen (without shipping fee).
===========================================================
Cyber​​shaft OCXO 10MHz OP20A / OP21A超高精度時鐘


10MHz主時鐘OP20A / OP21A- 外置電源專用型 將於2020年05月15日發布

型號:UPOCXO-OP20A - D
型號:UPOCXO-OP21A - D
這是通過結合電子豎井的技術和專有技術製成的高端音頻主時鐘。

配備4個輸出,可用於需要多個10MHz輸入的系統,例如單個DAC系統和HUB。

通過長期校準選擇穩定的單元,可以安裝新的OCXO Type 3。

下一代線性穩壓器LT3045配備了超低噪聲和超高PSRR次級電源電路。

它涵蓋了驚人的低相位噪聲-121dBc / Hz(@offset 1Hz OP21A)級。

特性

該產品採用新的OCXO Type 3,並通過長期校準來選擇和安裝具有出色穩定性的設備。

除OCXO單元外,還添加了由3M寬帶磁屏蔽板和熱屏蔽板組成的堅固外殼,以保持OCXO性能得以最大化的環境。

配備4個輸出,當在單個DAC或HUB之類的設備配置中需要多個時鐘信號時,該輸出非常方便。可以為每個系統設置50歐姆或75歐姆的阻抗。 (註冊實用程序模型)

輸出的GND電位可以連接到主機的GND或為每個通道隔離(隔離)。 (完成實用程序模型應用程序)可以精心處理音頻系統的複雜GND處理。

由於可以通過開關在1.6Vp-p和3.0Vp-p之間切換時鐘輸出電平,因此可以通過連接到幾乎所有音頻設備來使用它。 (4個系統通用開關類型)

配備了可以通過正常操作烤箱電路來控制OCXO單元溫度的LED監視器。

電源使用定制的大型R芯變壓器,漏磁通量最小,導線使用精密導體" 102 SSC"。配備了線性電源,該電源使用SiC肖特基勢壘二極管,大容量低ESR電容器和OSCON進行了驗證。

此外,還安裝了下一代線性穩壓器,超低噪聲,超高PSRR LT3045作為輔助電源。為了在最佳條件下運行LT3045,它具有三單元結構。從常規電源電路提供的初級電源是兩級電路,可徹底消除次級電源的噪聲。

可以使用外部直流電源進行將來的擴展。外部直流電源通過TL3045次級穩壓器電路提供給OCXO。它只能使用外部直流電源運行。

內部基板使用70微米厚的銅箔基板,是正常尺寸的兩倍。內部佈局經過反複驗證,處於最佳狀態。

除2mm厚的鋁材外,3mm厚的純銅板固定在機箱的底部,並具有5mm的整體減震結構。此外,我們採用鋁壓鑄三點支撐腳,可以穩定任何安裝表面。 4毫米螺釘可以用可選的尖峰絕緣子代替。

使用高度校準的測量儀器嚴格測量特性。繪製每個單元的相位噪聲和艾倫方差,以確保時鐘質量。

包括兩年免費維修保修。

最新開發的超低噪聲,超高PSRR線性電源

配備三單元電路,可最大化新一代線性穩壓器LT3045A的性能

傳統電源電路的輸出中增加了具有超高PSRR LT3045的雙結構電源電路。它旨在通過並聯使用三個LT3045來分配電流來獲得最大PSRR。
另外,當使用外部DC時,經由LT3045調節器的DC被提供給電路。

輸出GND絕緣/外殼GND選擇功能


每個輸出的GND電位可以在"與機箱GND隔離"或"外殼GND"之間切換。如果本機的輸出GND共同接地,則當連接多個設備時,每個設備的GND電位差會流過連接電纜的GND,這可能會引起噪聲,稱為GND迴路。因此,通常最好將每個輸出GND與噪聲隔離。根據所使用的系統,每個設備的接地可能都已牢固接地。如果這些設備之間沒有GND電位差,則將輸出GND接地到機箱GND可獲得更好的噪聲效果。

由於音頻系統的環境各不相同,因此您可以根據自己的環境選擇最佳方法。機器的底板配有機箱GND端子。
關於外部直流電源

本機設計用於連接外部直流電源。如果主機的內部電源開關關閉並且直流選擇器開關切換到外部直流,則它將在外部直流電源的作用下完全工作。
外部DC的規格為14V-16V 1A。推薦電壓為14V。給DC提供盡可能小的紋波噪聲,以免在內部產生噪聲。

外部DC插頭標準為2.1mm / 5.5mm。也可以使用普通的DC插頭,但是由於使用了旋入式插孔,因此建議使用[RS產品487-820]插頭。

關於OCXO Type3
我們採用了OCXO,該產品具有最合適的規格,可滿足世界頂級製造商的訂單要求。此外,在交付新設備後的幾個月內進行內部校准後,僅會選擇並安裝特性非常穩定的人員。 (未公開製造商名稱和型號。)

OCXO特性選擇值



經過幾個月的新OCXO單元校准後,此產品中安裝的OCXO使用穩定的個人設備。為了選擇最佳的音頻時鐘,我們綜合評估了可以進一步檢查的相位噪聲特性和短期穩定性(艾倫色散)。
・選擇基準值
相位噪聲:OP20A -120dBc / Hz以下1Hz偏移-140dBc / Hz以下10Hz偏移OP21A -121dBc / Hz以下1Hz偏移-140dBc / Hz以下10Hz偏移


短期穩定性(參考值)
OP20A TAU = 1sec 2.5E-13或更短(0.00025ppb / s)
OP21A TAU = 1sec 2.0E-13或更短(0.00020ppb / s)

我們公司選擇等級的主要標準是Alain分散液的短期穩定性。例如,即使相位噪聲值為1Hz偏移且-121dBc / Hz或更小,如果短期穩定性Tau = 1sec的值不符合標準,也不會變為OP21。這與以前的OP等級選擇方法相同。

上述值不是一般目錄值(典型值),而是單獨測量的保證值,因此產品質量是恆定的。沒有所謂的"中斷"。

*對於相位噪聲偏移1Hz的值,採用1.000Hz至1.099Hz之間的適當值可避免平均誤差。相位噪聲的測量非常敏感,並且存在測量誤差和測量誤差。指示的相位噪聲值不是絕對值,但包括測量誤差。表示的相位噪聲值是在我公司相同條件下測得的值,是產品等級分類的指標。

國際標準並未明確定義Alain方差的短期穩定性值,因此校準實驗室之間可能會有較大的誤差。上面選擇的值是我們校准設備的值。

・每個OP級產品必須隨附帶有全息圖的"選項級證書"。

中間裝有防篡改密封。全息圖打印在右邊緣。另外,在OCXO單元上粘貼了帶有序列號寫在選件等級證書上的全息圖。
購買第二次使用之前,請務必檢查。

如何使用
只需使用BNC電纜將本機背面的10MHz時鐘輸出連接到音頻設備的外部10MHz時鐘輸入即可。之後,更改音頻設備上的設置以使用外部時鐘輸入。 (某些設備會自動切換。)

兼容的音頻產品
" ESOTERIC Grandioso K1,P1x,P1,D1x,D1,K-01Xs,K-01X,K-01,K-03Xs,K-03X,K-03,K-05Xs,K-05X,K-05,K -07Xs,K-07X,K-07,D-02X,D-02,D-05X,D-07X,P-02,P-02X,N-01,N-05,G-0,G-0s ,G-0Rb,G-02,G-03X,G-25U,TASCAM CG1000 / dCS維瓦爾第時鐘,帕格尼尼時鐘,斯卡拉蒂時鐘/ MUTEC iCLOCK,MC-3 +,MC-3 + USB /羚羊音頻等時線OCX HD, OCX-V,OCX,TRINITY / BRAINSTORM DCD-8 / Phaseteck HD-7A / Phasemation HD-7A192 / SFORZATO DSP-01,DSP-Vera,DSP-Dorado,DST-01,DSP-03,DSP-05 / TEAC UD -503,UD-505,NT-503,NT-505 / SPEC RMP-X1 /聲音戰士SWD-CL10 / TechDAS D-7,D7i / RATOC RAL-DSDHA2 / M2TECH EVO DAC 2 PLUS,HIFACE EVO 2 / CH Precision C1,D1 / aurender W20 / Soulnote D-2 / SOTM MsMS-200ultra,tX-USBultra,SOTM M sNH-10G(均需要主時鐘輸入功能)/ GUSTARD U16 / iFi Audio Pro iDSD"和
其他10MHz時鐘輸入主時鐘發生器,CDP,DDC,DAC,音頻H UB等
*如果不確定所用設備的規格,請使用"聯繫我們"表格中的型號名稱與我們聯繫。

技術指標
已安裝10MHz振盪器的超低相位噪聲OCXO Type3
附件交流電源線,使用說明書,測試報告和相位噪聲/艾倫色散特性圖75歐姆端子3
可選配BNC電纜輸出:10 MHz x 4個系統正弦波輸出電平:LOW 1.6 Vp-p HIGH 3.0 Vp-p(4個系統公共開關50歐姆)
輸出阻抗:50歐姆/ 75歐姆每個系統
規格
已安裝10MHz振盪器的超低相位噪聲OCXO Type3
附件交流電源線,使用說明書,測試報告和相位噪聲/艾倫色散特性圖75歐姆端子3 可選配BNC電纜輸出:10 MHz x 4個系統正弦波輸出電平:LOW 1.6 Vp-p HIGH 3.0 Vp-p(4個系統公共開關50歐姆)
輸出阻抗:50歐姆/ 75歐姆每個系統都是一個開關輸出GND電位:身體GND /絕緣可切換(每條線可單獨切換)
尺寸:W230mm x(包括突起)D250mm x H95mm
功率:AC100V 50/60 Hz最高30W正常8W
(可選AC110V〜127 V或220V〜240V)
外接直流電源:DC14V〜16V 1A
外部直流插頭標準:
2.1mm / 5.5mm可擰的重量3.8公斤
2年免費維修保證
*設計和規格如有變更,恕不另行通知。
可選配件
釘絕緣子訂貨代碼:SPF-01,3套¥11,550(含稅)
機械二極管結構可阻止接地平面的振動。
可以用螺釘直徑為4mm的標準鋁壓鑄絕緣子代替。

由於長釘和基座是一體的,因此無需安裝和移動設備。
出廠時,標準的鋁壓鑄絕緣子已安裝在主機上,並且此選件包括在內以防止損壞電極頭。易於安裝。

問與答

" OP20A"和" OP21A"產品有什麼區別?
OCXO的相位噪聲特性和Allan色散的短期穩定性特性不同。其他一切都一樣。

Ultimate和Limited2 OP20和" OP20A"等級之間有什麼區別?
Ultimate / Limited2 OP20 OCXO單元的選擇條件和OP20A單元的選擇條件完全相同。同樣,Ultimate / Limited2 OP21 OCXO單元的選擇條件與OP21A單元的選擇條件完全相同。另一個區別是,在1KHz之後,OCXO Type3的偏移特性比OCXO Type2好-5dBc / Hz。

什麼是" OCXO Type3"?
附在不同製造商的OCXO上的公司代碼和產品中使用的型號。 OCXO 1型和2型是二手產品,已從工業設備中使用的設備中移除。此OCXO Type3是由我們從世界頂級製造商訂購的新OCXO裝置。 (未公開製造商和型號。)1KHz後OCXO 3型的偏移特性比OCXO 2型好5dBc / Hz。

打開電源後它將穩定多長時間?
由於是OCXO,它將在打開電源後約30分鐘內穩定下來。但是,高精度振盪器與其他振盪器相同,但是最初的特性會在數十小時內逐漸出現。由於功耗非常小,因此建議您始終在不關閉電源的情況下使用它。

購買後是否需要定期檢查?如有需要,合適的期限是多少?
對於音頻應用而言,隨時間變化的頻率值幾乎不是問題,因此我認為不需要定期進行調整。作為一項服務,在保修期內,頻率精度最多可以調整2次。 (運費由客戶承擔)以後的檢查會收取費用,但艾倫色散/相位噪聲測量和頻率精度重新校準也需要5,400日元(不含運費)。
Official link from Cybershaft: